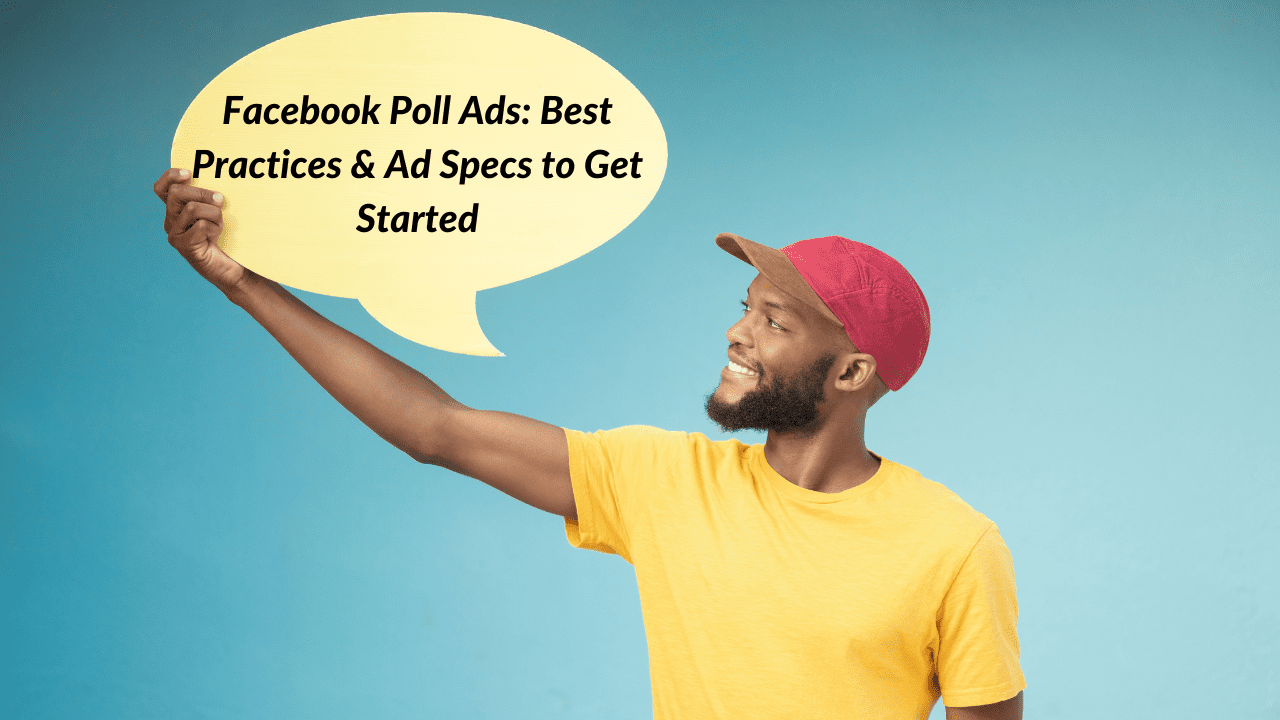 Engaged social media users frequently wish to have a bigger impact overall. They demand a say in important decisions that brands make. As a result, brands enable both of these. Digital advertising on social media is changing from one-way communication to a constant conversation between brands and customers thanks to GIFs, lives, reactions, emoticons, facial filters, augmented reality, and playable commercials.
By including the polling sticker to Stories advertising in March 2019, Instagram enabled businesses to start interacting with customers more closely:
The new Instagram Stories ad type is currently in open beta.
increased average video views by 3 seconds
lowered the cost per video view by 20%.
increased app installations by 40%
Following the popularity and success of the brand-new interactive ad from Instagram, Facebook Ads made the decision to add polling functionality to their platform. Here come the Facebook Poll ads.
What are Facebook Poll Ads?
In a video ad campaign, poll ads incorporate a question and several possible answers, allowing viewers to participate in an interactive experience and voice their opinions. In the Facebook mobile News Feed, the following new ad format appears:
How and why to use Facebook Poll ads
Brands may use Facebook Poll advertisements to:
Discover which goods, services, or content will appeal to their audience the most.
gather data to create new products or services or to enhance existing ones.
Make sure they have a market based on the desires, requirements, and problems of customers.
Develop stronger, more likeable connections
Increased engagement, interaction, brand awareness, and conversions are generated by Facebook video poll ads. Delivering content that consumers want leads to increased engagement, and the more interaction a user has with a brand, the more probable it is that they will remember it and make a purchase.
In fact, five out of nine brand lift studies conducted during beta testing found that poll advertising raised brand awareness more so than conventional video ads.
The adoption of the new format by E! Entertainment is explained by Eric Eckstein, Senior Director of Digital Marketing at E! Entertainment:
E! is always looking for more meaningful ways to engage its audience. Prior to the release of Season 4 of Total Bellas, the introduction of Facebook Poll advertisements provided us with an amazing opportunity to employ media in a creative and interactive way. Giving viewers a chance to connect with the show enabled us to develop significant interactions that fueled success throughout the Season.
Ad specs
Poll advertisements adhere to regular mobile video ad specifications because they are mobile video ads with polls included.
Design Recommendations
The majority of file types are supported, but it is advised to use H.264 compression, square pixels, fixed frame rates, progressive scan, and stereo AAC audio at 128kbps+.
9:16 to 16:9 in the video
Resolution suggested: Upload a video with the greatest resolution that is feasible while staying under the allowed file size and aspect ratio constraints.
4GB for the video file Max Captions: Not required but advised
Sound is optional but advised.
125 characters total
Deliveries of video thumbnail pictures with more text than 20% may be lowered
Videos that are vertical and have an aspect ratio taller than 4:5 can be changed to 4:5.
Headline for link: 25 characters
30 character limit for link description
Objectives:
Brand Awareness
Reach
Traffic
App Installs
Conversions
Technical Requirements
Video duration: 1 second to 241 minutes
Video dimension: At least 120 pixels by 120 pixels
Video size: 1MB to 26GB
Video aspect ratio: 100×400 to 400×100
Best practices for video poll ads
In addition to several guidelines particular to polls, poll commercials also adhere to many of the general best practises for mobile video ads:
Keep videos short
If your video advertisement is 15 seconds or fewer, viewers are more likely to stick around to the conclusion. Instagram Stories and Facebook in-stream placements are also available for video ads that are 15 seconds or less long.
Capture attention quickly
To capture and hold viewers' attention, the most intriguing section of your video should appear inside the first three seconds.
Feature your product or brand message early
In order to raise brand awareness, you need quickly demonstrate your brand identity, just as you want to grab attention quickly:
Use vertical or square video
Choose a vertical or square aspect ratio to maximise the amount of screen real estate since most people hold their phones vertically.
Design for sound off
Use text, graphics, and captions whenever you can because many people watch videos without sound.
Keep polls short
Shorter poll questions typically perform better since they encourage user participation without taking away too much attention from the video.
Make polls meaningful
Ask meaningful questions rather than ones that only have "Yes" or "No" replies. Make your inquiry more interesting by using words like "Yes, without a doubt!" or "Absolutely no way." if you want a yes/no response:
Avoid trivia questions
Trivia-style questions typically draw less participation.
Do not "bait" users
Baiting users to "like" or "react" to your content
Comment-baiting is the practise of soliciting responses in comments.
Asking individuals to share the post with their friends is known as "share baiting."
Tag baiting is the practise of requesting friends' tags.
Vote baiting is the practise of enticing individuals to cast ballots by leveraging their reactions, comments, shares, or other ways.
Direct traffic to a post-click page
Although adding URLs for each selection is optional, it's best practise to direct users to another page after they vote:
Send traffic to certain post-click landing pages because that is where conversions take place for the best outcomes.
How to set up poll ads
To add a poll to your video ad:
Click Create when you are in Ads Manager.
Select (Brand Awareness, Reach, Traffic, App Installs, or Conversions) an objective that supports Poll Ads, then click Continue.
Click Continue after selecting your targeting, placements, and budget.
Select a video from the media library or upload a new one under Format.
To add a poll, click on it.
Enter your poll question, along with Choices 1 and 2, in the Creative Editor.
Optional: Add destination URLs for Options 1 and 2 (Note: Two URLs, not just one, must be entered).
Press Save.
Your targeting and placement preferences will determine where your Facebook poll ad appears in the mobile News Feed.
To view responses to your poll:
Access Ads Manager.
Choose the campaign, ad set, or advertisement you wish to view poll results for.
To view charts, click.
Choose the time frame for the poll results you want to view.
Select Facebook Mobile News Feed from the dropdown menu under Interactivity Results.
Viewing Reach and Poll Responses will be possible.
Inspire engagement and conversions with Facebook Poll ads
With poll ads, you can include a question and several possible answers in your Facebook video ad campaign. Users' choices can be expressed through an interactive, engaging experience, which enhances campaign outcomes from brand exposure to conversions.
Without a dedicated post-click landing page to secure the convert, no campaign is complete. To understand how Instapage can assist you in producing those pertinent post-click landing pages at scale, request an Instapage Enterprise demo right away.