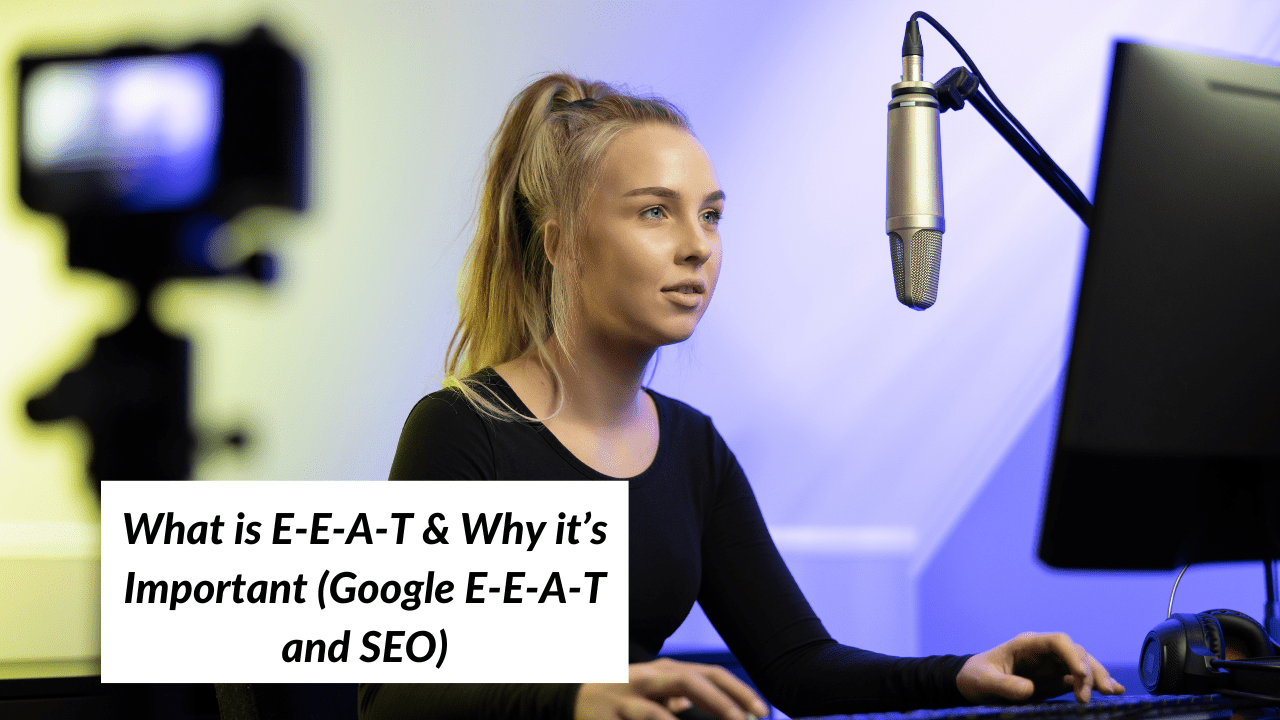 The term "E-E-A-T," created by Google, is now used by SEOs to define the calibre of their website. Many people in the SEO business use this phrase, particularly when talking about algorithm updates. With Google's recent announcement of the 2022 Helpful Content Update, it recently became a hot subject. Google revealed the addition of E to E-A-T in late 2022, so I made the decision to update this article.
I'm going to explain what E-E-A-T is, why it's important, how algorithm changes affect it, and how to make your website's E-E-A-T better.
What is E-E-A-T?
E-E-A-T is an acronym for knowledge, experience, authority, and integrity. It aids Quality Raters in evaluating and assessing the value of the primary material on your website.
The quality of search engine data is assessed by individuals known as quality raters. For instance, Google uses their input to compute how well the search engine algorithm performs and to enhance it for a better user experience. (UX).
Let's examine each of these words' definitions so that you can comprehend E-E-A-T better:
High level of knowledge in a specific field is known as expertise. It demonstrates that the publication disseminated accurate knowledge.
Experience, the most recent E-E-A-T signal update. Experience measures how much first-hand knowledge a publisher has of a given subject and rates the content's quality in accordance. Trust is therefore the most crucial component of this communication.
Authoritativeness emphasises the credibility and standing of the website's creator. Credentials, area of specialization, and verified user reviews all have an effect.
Trustworthiness demonstrates that the information in the piece comes from reliable sources. For instance, adding an SSL certificate to your website helps to demonstrate its legitimacy and reassures users that their data is secure.
How does Google determine E-E-A-T?
Now that we have defined what E-E-A-T is, let's talk about how Google determines a page's E-E-A-T. At a high level, the Google search quality evaluator rules outline four key components:
Personal knowledge of the subject
Expertise of the Main Content's author.
the Main Content's creator, the website's credibility, and the Main Content itself
the Main Content's creator, the Main Content itself, and the website's dependability
Is Google's E-E-A-T a Ranking Factor?
E-E-A-T does not directly affect rankings. It's a notion for how we might gauge the calibre of our material. Google's Danny Sullivan explained how the algorithm doesn't explicitly measure E-E-A-T in a Tweet. Google makes an effort to identify E-E-A-T, though, by using additional ranking factors like reviews, authorship history, what links say about a company, and more.
Even though it isn't a straight ranking factor, it should be taken into account in your strategy.
Why Is Google's E-E-A-T Important for SEO?
I'm pleased that the days when keyword stuffing and the quantity of links could affect a website's ranking in search results are long gone. Google now puts the customer first and is user-centred. E-E-A-T is significant because of this.
I answer the following queries in order to concentrate on the user:
What exactly is the customer looking for?
Will the user's experience be positive?
Will the user find the information useful?
Through keyword research and an understanding of the search purpose, I respond to the first query. For the second query, I first look at a site's Core Web Vitals, but I also want to make sure I take interstitials, text size, and other factors into account. The third query aims to determine the value of my information. Its objective was accomplished if it satisfied the search aim. However, accomplishing the goal doesn't stop there.
To describe the calibre of our material, we use the acronym E-E-A-T. We must make sure that users see material that not only satisfies their needs but also gives them the confidence that the data they received is reliable.
Not all topics require adherence to this quality idea. During their evaluation, the Search Evaluators also take that into account.
But because YMYL subjects generally have the potential to cause harm, material accuracy becomes crucial.
Your Money Your Life (YMYL) Content
The term "Your Money Your Life" (abbreviated as "YMYL") is used to refer to material that may have an impact on a person's wellbeing. A person's health may be impacted by their economical, legal, or medical situation. YMYL content needs more E-E-A-T than other types due to its potential for harm. Therefore, it is crucial that YMYL websites create rules regarding E-E-A-T.
Think about how a user would evaluate your website's E-E-A-T, and make it simpler for them to draw the conclusion that it is an expert, authoritative, and reliable source.
Let's talk about how you can start because it sounds simple but requires a lot of effort.
How Does E-E-A-T Matter for SEO?
Actionable SEO advice is primarily linked with E-E-A-T SEO. Creating high-quality material has always been a key component of SEO, and following these rules only helps!
Building connections and favouring high-quality links over low-quality ones is another crucial factor. More external connections from reputable websites improve your SEO performance and help with the authority component of E-E-A-T.
Additionally, linking to reliable sources increases the likelihood that a reputable website will link back to your website.
High authority referring domains can strengthen your backlink profile and raise your domain authority, both of which are essential for SEO.
For improved E-E-A-T SEO, quality is always preferred over quantity. Avoid link factories because they are a destructive SEO strategy that can undo all your SEO work.
What is YMYL?
"Your Money or Your Life" is the abbreviation. This acronym is used by Google as a guiding principle for classifying web sites that have an effect on your finances, well-being, security, and/or happiness.
Due to the subject matter and what it implies for a user if that information is misrepresented, YMYL sites are held to the highest E-E-A-T standards.
Types of YMYL websites
The pages most often considered YMYL include:
News and current events: topics that touch on commerce, politics, science, and technology as well as global events (Not all news is covered by YMYL, for example, sports and entertainment news, but you should still aim for a strong E-E-A-T to raise the profile of your content.)
Civics, government, law: dissemination of information about elections, public institutions, government agencies, social services, or legal guidance
Finance: Anything pertaining to investments, taxes, retirement planning, loans, banking, or insurance, as well as any financial guidance or information
Shopping: content for e-commerce that highlights product study or the investigation of products and services that require a purchase
Health and safety: Information or recommendations on drugs, hospitals, and other health and medical problems that are featured in the content (emergency preparedness or content that defines or discusses dangerous activities)
Groups of people: content that makes statements or offers information about people based on their country, race, religion, age, gender identity, sexual orientation, or veteran status
Depending on their context or the manner in which the information is presented, the list may also include more subjective subjects and content. These could be things like advice on parenting, home improvement or remodeling, school or college study, job hunting, or issues with fitness, nutrition, or weight loss.
Google E-E-A-T SEO importance
Google is aware that decisions a person makes could have a significant impact on their lives. Consequently, a faulty source of information in Google search results can have negative effects in the actual world.
What Does E-E-A-T Mean by Google's Helpful Content Update?
Google introduced the useful Content Update on August 18, 2022 as "part of a broader effort to ensure people see more original, helpful content written by people, for people, in It was expected that sites with a lot of pointless content would be demoted in the search results.
But there weren't many webpages that underwent significant upheaval or decline. There was no difference for my customers. Although there was a rise in views for the month, nothing alarming was observed. Barry Schwartz's summary of the rollout of the helpful content upgrade gives the impression that the SEO Course community agreed with this conclusion.
When it comes to updates to the core algorithm, E-E-A-T is still crucial even though the Helpful Content Update didn't impact many sites. It will remain a priority as we proceed forward navigating the unprecedented algorithm updates.
I strongly suggest perusing Lily Ray's article on the significance of E-A-T if you want to learn more about E-E-A-T and its significance for SEO. Her initial talk at MozCon was incredible, and I saw it. The essay is equally fantastic!
Wrap-Up
The consumer should continue to be the main priority for SEOs. They'll probably perform admirably with their E-E-A-T if they do that. The E-E-A-T of a website can be improved, but it takes a lot of effort. That expenditure was worthwhile because Google keeps updating its algorithms to make the web better for users.
If your company treats customers well, you won't remember what it was like to foresee how an algorithm change would affect your website. We will hear E-E-A-T stated more frequently as more updates take place. Use the eight suggestions and think ahead for the upcoming upgrade; you don't want to have to make up for mistakes you could have avoided.
You must exercise caution if any of these YMYL categories apply to your web pages or material. Make it crystal clear who penned it and under whose authority.
The more closely you can adhere to and implement the E-E-A-T standards in your material, the higher your chances are of achieving success in organic search engine visibility and ranking.